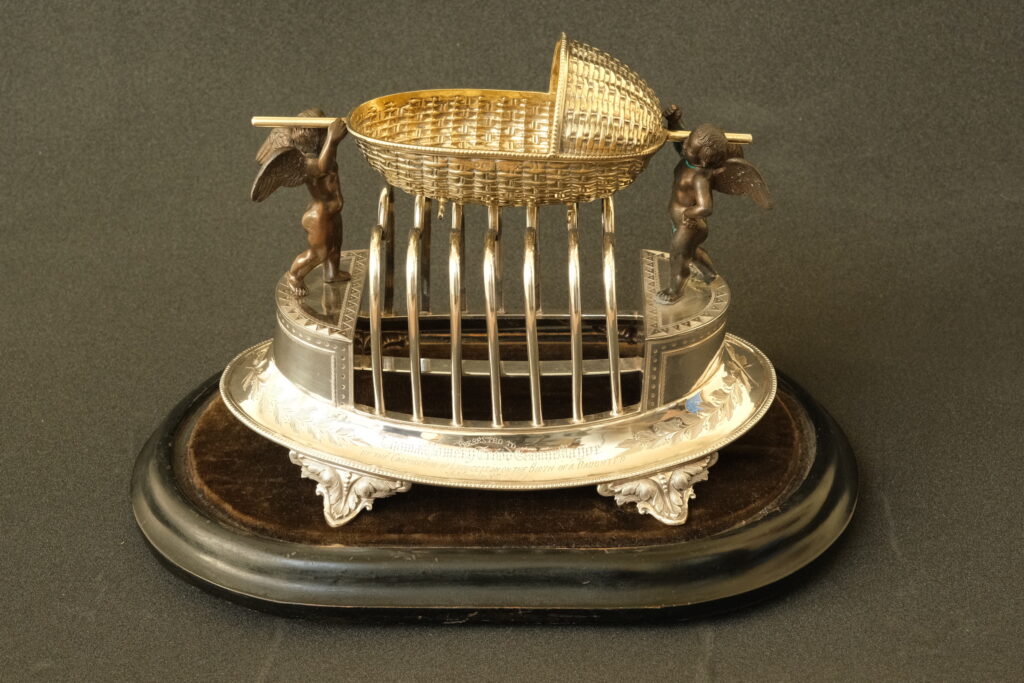 Thomas Trood, born in Morwenstow, first appeared in Launceston records in 1871.
Financially secure, he and brother Edward, set up a business, T.P. & E. Trood Merchants operating from Town Mills and Priory Yard.
In 1878 Thomas became Mayor, a position he held 4 times. As the first Mayor to have a child born while in office, he was presented on Monday 11th November 1879 with 'a handsomely – wrought toast rack, surmounted by a gold – gilt silver cradle'. It was made by a Bristol silversmith, Josiah Williams, and assayed in Exeter. The putti (winged Cherubs) appear to be missing supports for the butter dish, and we have asked a conservator and silversmith about restoring it to its original glory.
Inspired by this toast rack, Arthur, Kay and Carol are researching Thomas Trood's life for the Launceston's People Project. He was a benefactor to Launceston: gave permission for excavations to be carried out on his land next to St Thomas Church; was active in the movements to establish a public library and new sewage works; was a founder of Dunheved College and a member of Rowe's Dispensary committee.
To commemorate Queen Victoria's 60 years on the throne, as Mayor, he opened and named the Jubilee baths in Underlane.